Project Barnabas
Pastors Encouraged to Date:
661
Reaching Pastors Nationwide with Prayer and Encouragement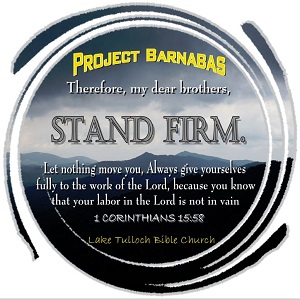 Barnabas's name means "Son of Encouragement". When the Apostle Paul was first starting his ministry, he became very discouraged. Along came Barnabas whom God sent to be an encourager to Paul.
LTBC has launched Project Barnabas as an outreach ministry to encourage pastors nationwide. Our goal is to bless and encourage 50 Pastors over the next year. If you would like to nominate a Pastor, please take a form from the information booth at church or fill out the nomination by clicking the link on this page. Nominees who are chosen will receive a gift of $100.00 along with a letter of encouragement as a reminder that our church family is praying for them.
Recent Nominations
June 2021
Pastor Don Guttormson
Iron Range Vineyard Church
Eveleth, MN
nominated by:
Larry Hicks
Pastor Brook Moes
Calaveras Presbyterian Church
Vallecito, CA
nominated by:
Karen Kaja obo John Albertson
Pastor Stephan Sandness
Our Saviour Lutheran Church
Spearfish, SD
nominated by:
Paul and Candace Raupach
Nominated Pastors can be viewed and contributions can be made to this ministry at the Barnabas Bucks Box located on the wall at the church.