Community Bible Study - Revelation
by LTBC
on December 27, 2022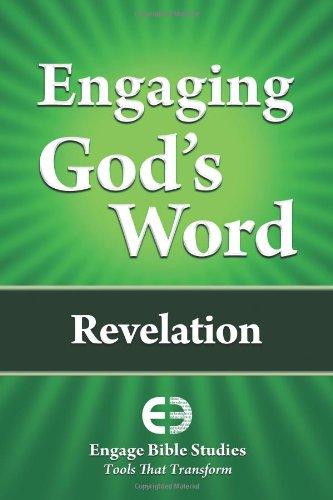 We invite you to join us for our

COMMUNITY BIBLE STUDY

"Engaging God's Word"
An 18 week study through the Book of Revelation
Tuesdays Mornings 9:00 - 10:30
Starting Tuesday January 10th, 2023

The opening words of Revelation announce the book's title and author: The revelation of Jesus Christ. In this 18-lesson in-depth Bible study, you will engage with the unveiling of Jesus as the Lamb of God, Bridegroom, King, and Judge. You will see how God rules history and will bring it to a triumphal climax in Christ. Engage Bible Studies connect you with the enduring truth of God's Word. Come out of the clutter and clanging of our culture and discover the peace of meeting the God of the Bible in the pages of His Word. Engage Bible Studies take you verse by verse into the richness of the Scriptures in ways that impact your heart and illumine your mind. You won't find dry doctrinal debates. You will find simple tools that cultivate your understanding and engage your heart. Tools for transformation. You also will learn how to apply God's Word in your everyday life. You are beginning an incredible journey!

Tuesday mornings from 9:00 - 10:30
At Lake Tulloch Bible Church
3566 Spangler Lane #3
Copperopolis, CA 95228
Contact Millie at mjennings@caltel.com or Kathy Holz at kathyholz@gmail.com
for information on how to obtain a study book
We hope to see You there!
| | | | |
| --- | --- | --- | --- |
| January 10, 2023 | Intro | Introduction to the 18 Week Study | |
| January 17, 2023 | Lesson 1 | Prophecies Of Future Events | Rev. 1:1-8 |
| January 24, 2023 | Lesson 2 | The Vision Of Christ | Rev. 1:9-20 |
| January 31, 2023 | Lesson 3 | Letters To Four Churches | Rev. 2 |
| February 7, 2023 | Lesson 4 | Letters To Three Churches | Rev. 3 |
| February 14, 2023 | Lesson 5 | The Throne Scene | Rev. 4 |
| February 21, 2023 | Lesson 6 | The Lamb And The Scroll | Rev. 5 |
| February 28, 2023 | Lesson 7 | The Seals | Rev. 6-7 |
| March 7, 2023 | Lesson 8 | The Trumpets | Rev. 8 - 9 |
| March 14, 2023 | Lesson 9 | The Mighty Angel And Two Witnesses | Rev. 10 - 11 |
| March 21, 2023 | Lesson 10 | An Evil Trinity | Rev. 12 - 13 |
| March 28, 2023 | Lesson 11 | The 144,000 & The Harvest Of The Earth | Rev. 14 |
| April 4, 2023 | Lesson 12 | Songs Of Victory & The Bowl Judgements | Rev 15 - 16 |
| April11, 2023 | Lesson 13 | Babylon And The Beast | Rev. 17 - 18 |
| April 18, 2023 | Lesson 14 | Heaven Rejoices! | Rev. 19:1-16 |
| April 25, 2023 | Lesson 15 | Jesus' Triumph And The 1,000 Years | Rev. 19:17-20:6 |
| May 2, 2023 | Lesson 16 | The Last Rebellion And Judgement | Rev. 20:7-15 |
| May 9, 2023 | Lesson 17 | All Things New | Rev. 21 |
| May 16, 2023 | Lesson 18 | "Come Lord Jesus!" | Rev. 22 |
back